Kansas Mesonet is proud to be a member of the Kansas Interagency Wildfire Council (KIWC) and will be communicating information each day during the Kansas Wildfire Awareness Week on this webpage.
Friday, Feb 24
Welding is one of the many ways you can spark a wildfire. Learn about others at Forest Service and Firewise. #WildfireKS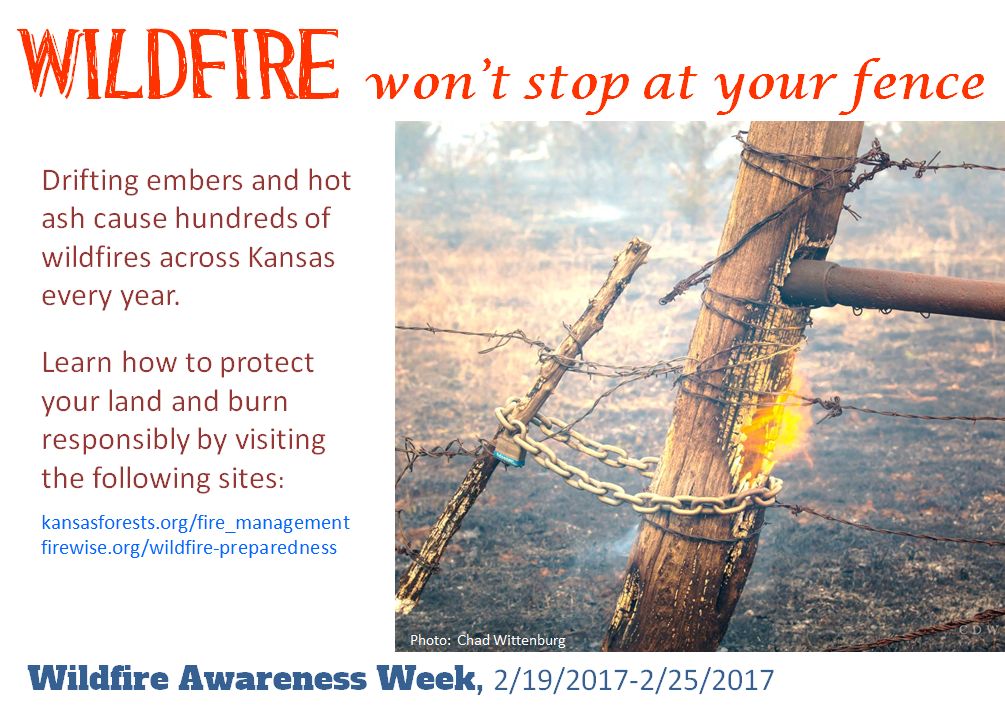 Sparks and embers can restart wildfires. Learn more here: Kansas Forest Service and Firewise.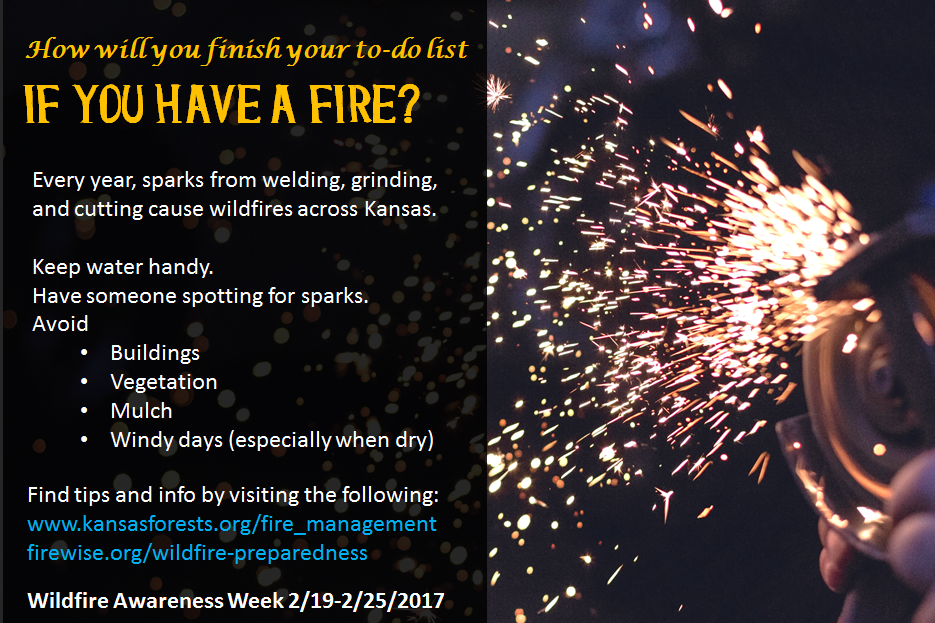 Thursday, Feb 23
Prep your area to keep a burn contained. Learn about others at Forest Service and Firewise. #WildfireKS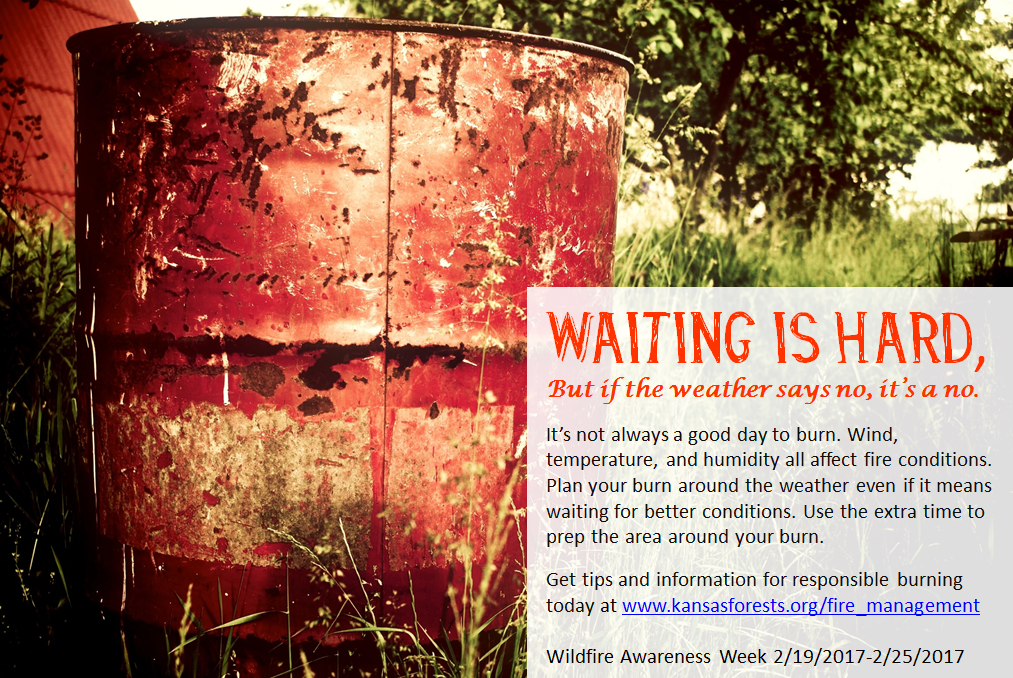 A good defense is a good offense! For more prevention tips see Kansas Forest Service and Firewise.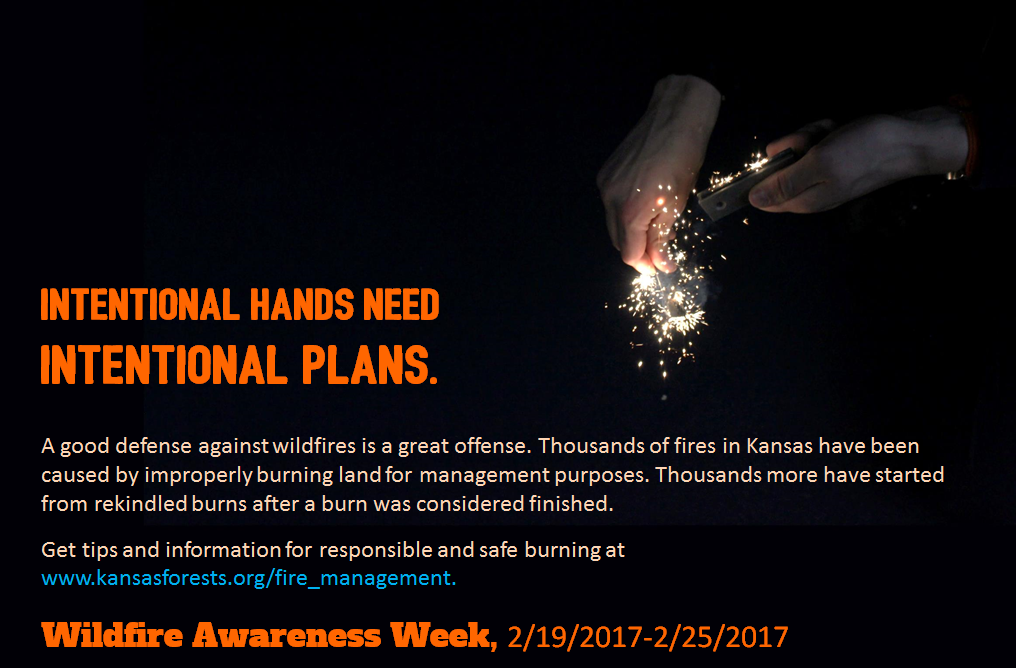 Wednesday, Feb 22
Baler fires can be costly! For prevention tips check Forest Service and Firewise.
#WildfireKS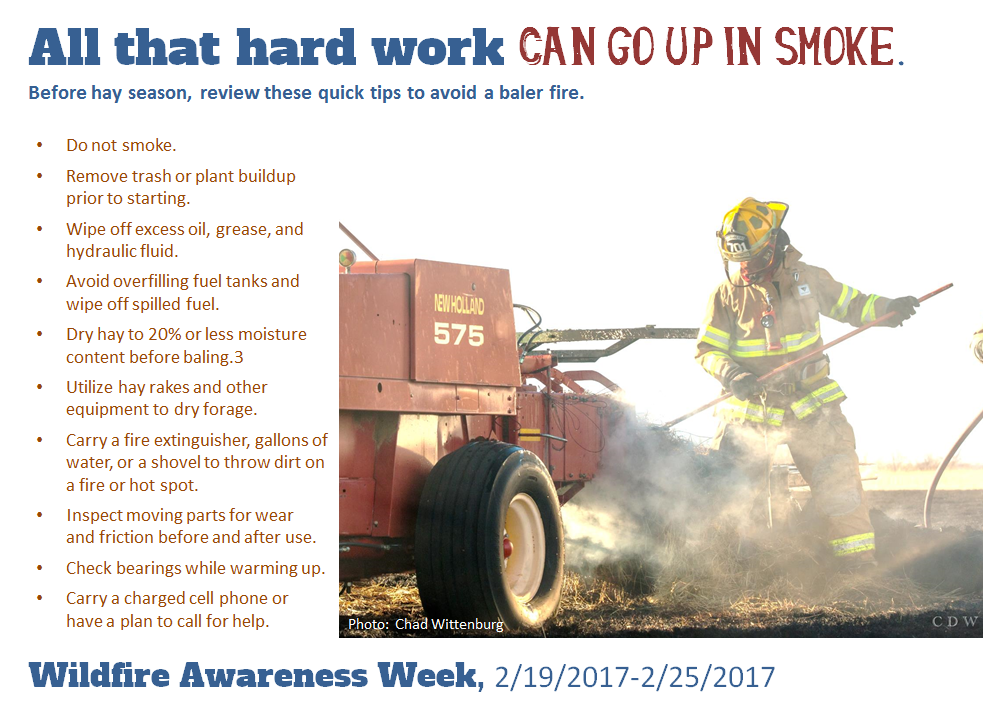 Wet hay can cause more than field damage.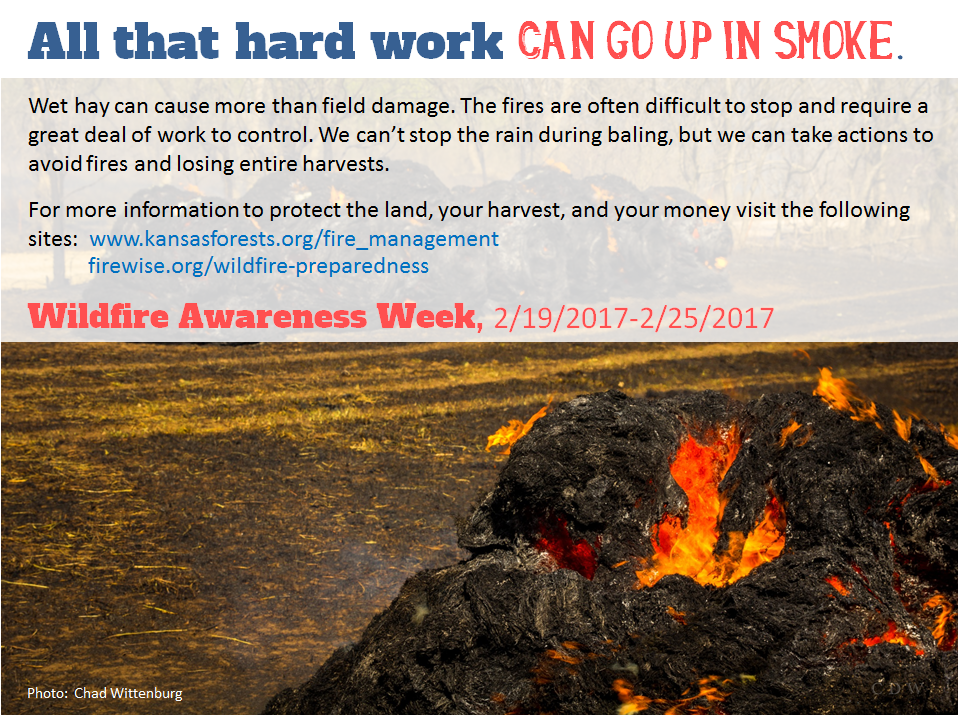 Tuesday, Feb 21
Explore Kansas, don't burn it!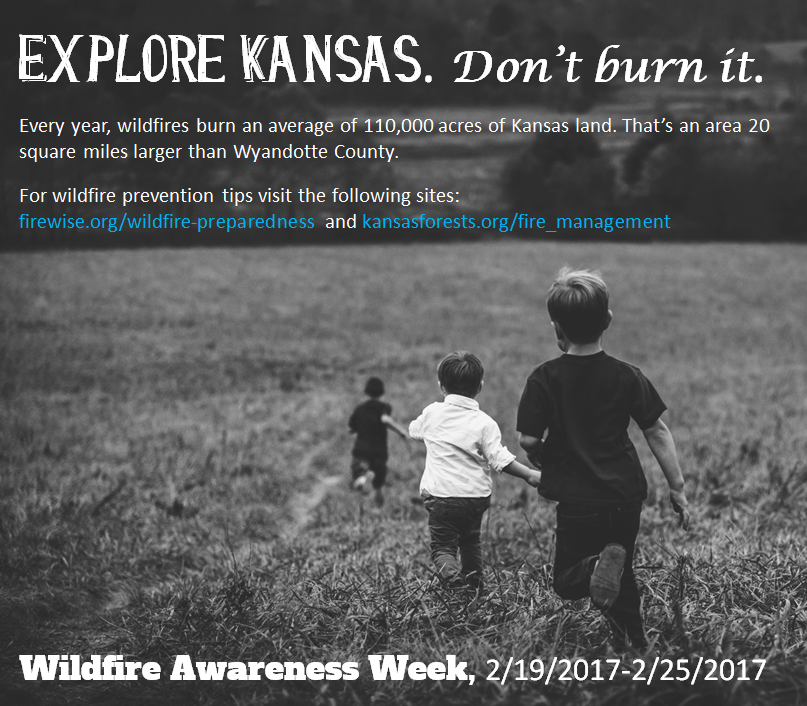 A common source of fire is sitting in your garage! to prevent #WildfireKS and preserve burning unwanted land!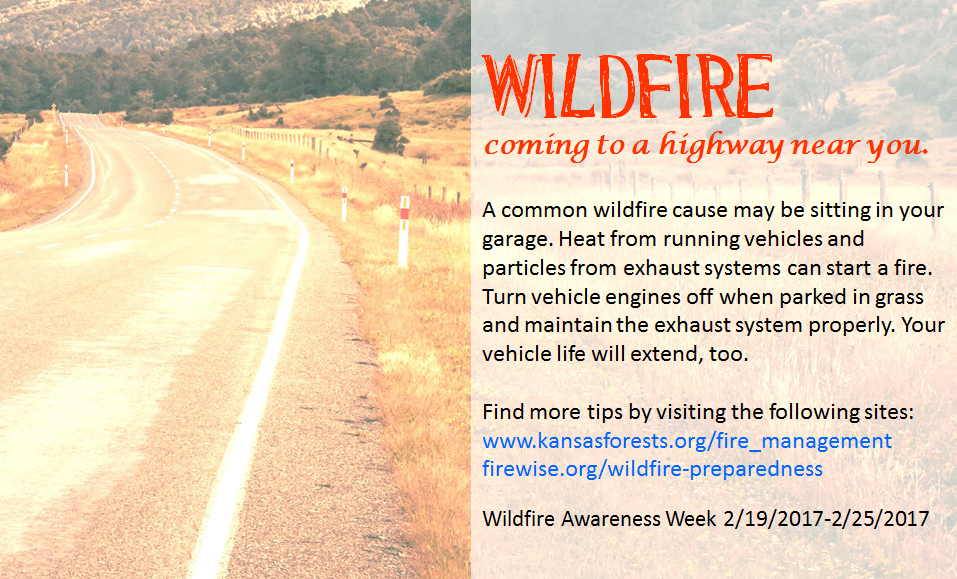 Monday, Feb 20
Be part of the solution to #WildfireKS! There are tips, tools, and teachings you can use at Firewise's webpage.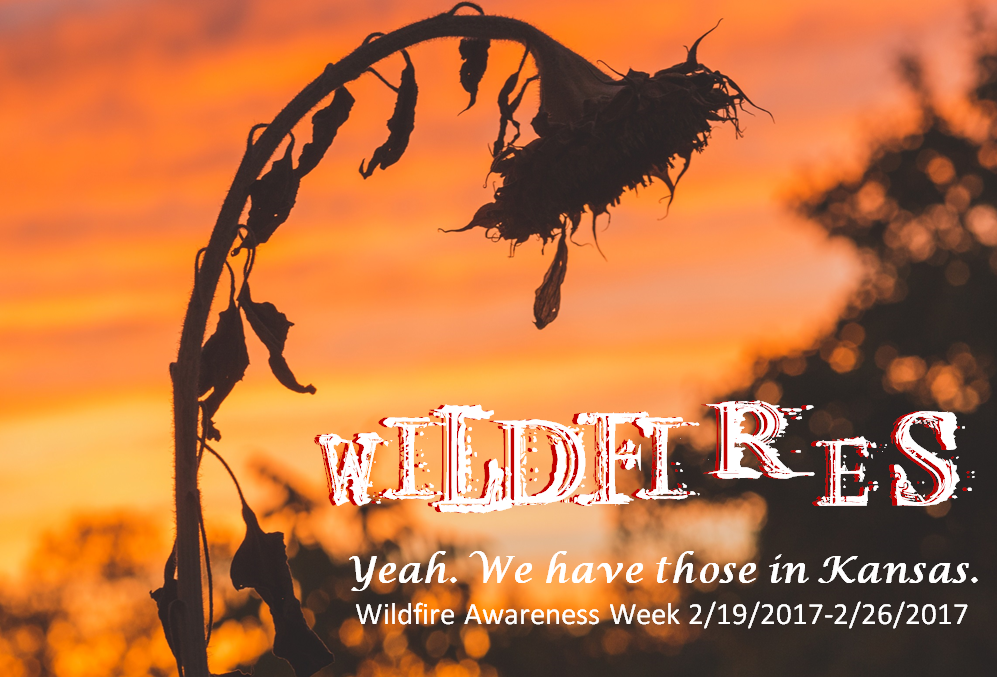 Before putting fire on the ground, check current conditions at Kansas Mesonet or the forecast at National Weather Service!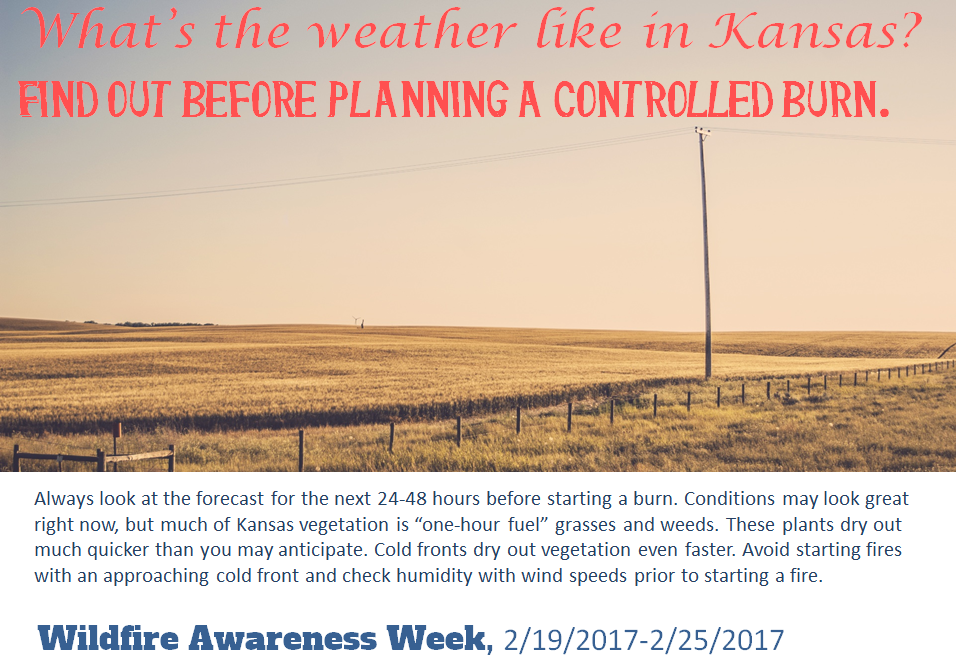 Kansas Wildfire Awareness Week February 19-26 2017
TOPEKA, Kan. - Kansas Gov. Sam Brownback proclaimed Feb. 19-25, 2017 as Wildfire Awareness Week. This is the governor's third consecutive year for designating a week to the cause of wildfire awareness.

"Wildland fire is a serious public safety concern both locally and nationally," noted the governor in his proclamation. "Preparation is crucial in preventing the loss of life and property from wildfires, and every Kansas citizen shares this responsibility."

In 2015, Kansas fire departments responded to nearly 6,000 vegetation-related fires that resulted in 21 reported injuries and $4.9 million in property loss and damages, according to the Kansas Interagency Wildfire Council. Many firefighters in Kansas volunteer their time and energy to wildland fires; in fact, 82 percent of Kansas firefighters work on a volunteer basis.

According to fire officials, nearly 95 percent of all wildfires result from the activity of people, and subsequently, a significant number could be prevented by taking proper actions toward fire safety.

The Office of the State Fire Marshal and Kansas Interagency Wildfire Council offer the following tips and best practices for helping farmers and ranchers to have safe and successful prescribed burns of their fields and pastures, and ensuring a burn doesn't become a wildfire:
Know all state and local fire restrictions. Check with county officials who are charged with deciding whether burning is permissible based on local conditions.
Notify neighbors as a courtesy prior to burning.
Postpone the burn if unsure of the fuel and weather conditions.
Check the weather forecast, not just for the day you will be burning, but for a couple days afterward to avoid "holdover" escapes from burns that were completed and forgotten about a day or more prior.
Have adequate resources and equipment available to prevent escaped fires.
Consider smoke management to avoid unsafe roads and air quality conditions.
Do not burn to the ends of the field. Setting boundaries, "back burning" and keeping the fire off of fence rows will prevent out-of-control burns.


Throughout this year's Wildfire Awareness Week, the Kansas Interagency Wildfire Council will remind Kansans of the dangers posed by wildfires and the simple steps that should be followed to prepare for and prevent them. Look for the hashtag #WildfireKS on social media, and like and follow the Kansas Interagency Wildfire Council on Twitter (@wildfireKS). Every Kansan should take this Wildfire Awareness Week as an opportunity to consider ways they can prevent dangerous wildfires.

Story by: Jennifer Williams
Kansas Forest Service
785-532-3308 or jgwilliams@ksu.edu