Features:
Quantifying Soil Moisture
Soil moisture is displayed in two forms:
Volumetric Water Content (VWC) describes the amount of water contained within the area measured by the sensor. This value is unitless and considered to be m³/m³. The Mesonet uses a refined version of this calculation that incorporates other raw measurements from the sensor for a more accurate representation of soil moisture.
Percent of Saturation. We use historical data to establish the driest and wettest times for each station. Then, assigning the wettest measurement as full saturation, calculate the current VWC as a percentage of that saturation.
For more information on how we collect this data, see here.
Map
The Map defaults to the current Percent of Saturation for 5 cm. Click any station on the map to set it as your selected station. Click the Page Tour button for a quick, interactive overview of the page features.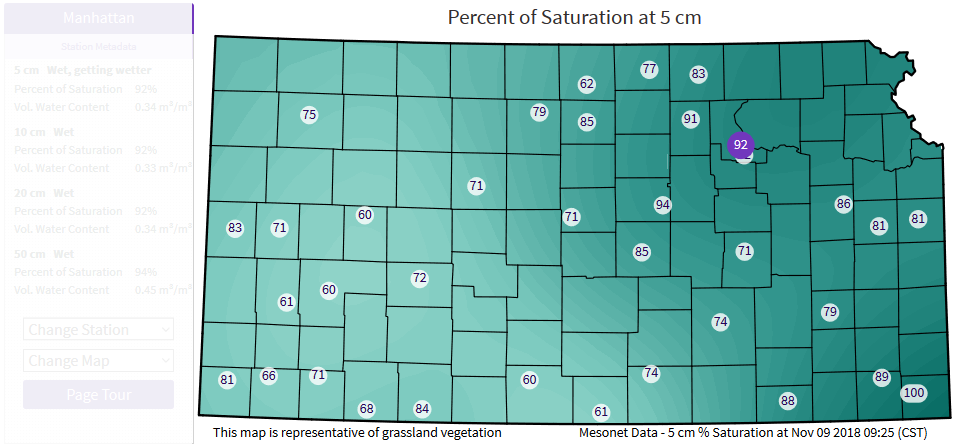 Use the drop-down 'Change Map' menu to view Percent of Saturation for different depths, VWC for all depths, and the 7 day change for all depths.

The 'Change Station' menu lets you select a station by name, and 'Page Tour' will give a brief guided tour of the page.
Station Summary
See at a glance, all measurements for the selected station. To provide further context, each depth is labeled as "Wet" or "Dry" based on the current VWC reading. If a change of more than 0.01m³/m³ occurred since 7 days ago, this will be followed by "getting wetter" or "getting drier". These changes can also be viewed on the "7 Day Change" maps.

Table Tab
This tab displays a table with information related to the visible map. Changing the map to "7 Day Change" will display the respective data. Sort the table by clicking or tapping on any of the column headers. Clicking a row in the table will set that as your selected station.

Chart Tab
Want to see what moisture has done over the past week? The 'Chart' tab features an interactive chart with hourly data from the past 7 days.
Mouse over the chart to see numeric data.
Click the legend to hide or show any of the data series.

If you wish to see data over a longer time period, use the 'Zoom' menu below the chart to see daily data for the past 30, 90 or 365 days.

Download Tab
Here it is: all the data and maps found on the soil moisture page, all in one place, all in easy-to-download formats. Take a minute to review our Citation and Usage Policy, then help yourself. Data are in CSV format, ready for Excel. Map images are in PNG format for easy download or sharing.

Resources
Consult this tab for helpful soil temperature information. Learn how we collect our soil moisture data and find links to recent publications from K-State Research and Extension.

About Soil Moisture
For more information about how we collect moisture data and how to use them, visit our Soil Moisture Explanation page.
Contact
Questions? Problems? Please let us know at kansas-wdl@k-state.edu