Soil Moisture
All Kansas Mesonet tower stations measure soil moisture at four depths. We utilize a time differential reflectometer (TDR) probe (Campbell Scientific, model CS655). Installation of current sensors began in mid-2017 and were completed early 2018. Data beyond 365 days is not currently available online but can be obtained by emailing the Mesonet (kansas-wdl@ksu.edu).
Depths and Location
Standardized depths are: 5, 10, 20, and 50 cm (approximately 2, 4, 8, and 20 inches).
Locations of the sensors are also standardized at all stations with all soil sensors placed four feet south of the station.
Influencing Factors
Soil moisture is highly dependent on countless variables that can have local influences on the measured values creating biases in the data. The Kansas Mesonet strives to limit these factors and make individual station data as representative of the surrounding region as possible.
Soil type: Kansas has a diverse range of soil types, from sandy in the southwest to solid limestone in the Flint Hills. Often these types vary over very small distances and may not be representative of your location. Keep this in mind when using the data.

Sandy soil: Grass is hard to maintain as a cover. Often, it is dug up by animals, blown away or redeposited. This can allow water to penetrate easier into the soil or resurface a sensor making it respond faster than expected to atmospheric changes.
Clay soil: Often the freeze/thaw process along with wetting/drying will cause uplift and/or sinking of the surface soil. As with erosion this this action can uplift or shift sensors deeper/shallower in the soil. The Mesonet verifies sensors aren't disturbed during maintenance visits.

Ground cover: Soil measurements are taken under sod at all stations. However, there are a few exceptions where grass struggles to grow and it may change between maintenance visits. Grass cover will create faster uptake of soil moisture during the growing season due to plant demand.
Soil depth: The depth of the sensors will often determine the type of soil and responsiveness to precipitation. The deeper in the soil, the slower the response time. Therefore, two inch sensors will often respond immediately to rainfall. Moisture takes longer to penetrate deep into the soil and therefore, the 8 and 20 inch sensors will take the longest to increase after a rain event. They will also take the longest to dry out.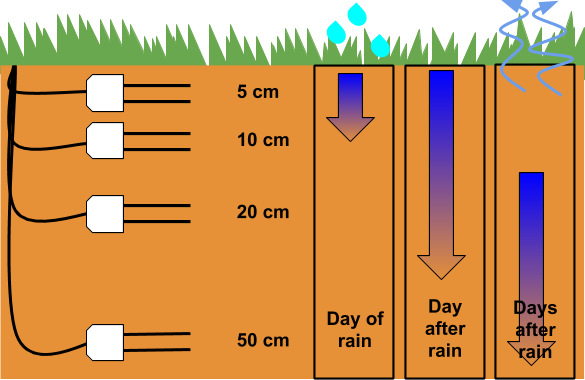 Using the Data
For a full explanation of how to use the page, look here.
How might you benefit from Kansas Mesonet soil temperature data? Here are a few examples:
Non-irrigated fields: A direct correlation to the demand and water availability during plant growth. Can assist in crop yield estimates.
Irrigated fields: Though relationship may be different between water availability, the curves and trends can be very useful for determining the water demand. Mesonet measurements can also be used to calibrate and provide a standard reference to other soil module monitoring systems. With one comparable standard, sensors in specific applications can now be cross-analyzed from individual farm/fields making it more useful on a regional scale.
Drought awareness: Though rainfall deficit can provide a quick proxy for drought, soil moisture is the best indicator for vegetative water demand. It can also provide a early warning for increasing demands of irrigation and other water use/storage trough curves and rapid declines.
Statewide statistics: The table lets you quickly view and sort data from across the state. You can also download data to perform your own analysis (see the Download tab).
Runoff estimates: Heavy rainfall impacts are usually dictated by how saturated the surface is at the time of the event. Through curves on the chart, you can observe hourly rainfall and resulting influences by depth. During high rain rates, you can calculate the impact runoff may have due to resulting curves by depth. If a high rain rate, reactions may only be noted in the 2" sensor and thus significant runoff is/may be occurring.
Statewide statistics: The table lets you quickly view and sort data from across the state. You can also download data to perform your own analysis (see the Download tab).
Graphics and social media: Download any of the maps in .PNG format for easy sharing.