Contents
How we measure precipitation
---
The Kansas Mesonet utilizes two different styles of rain gauges on the network. The most prominent gauge is the Texas Electronics 525 (TE525) model with a six inch opening (Figure 1). The other gauge commonly used across the network is the Hydrologic Services TB3 siphon tipping bucket gauge. These are also both primarily warm season tools that measure in 0.01 inch increments. Between 2009 - 2018, new stations had the Hydrological Services TB4 gauge which was essentially the same, but consisted of a heating mechanism to measure snow. Due to battery restrictions, cost, clogging, and sensor issues - the network primarily uses the TE525 model at most stations. Some have a combination of the two.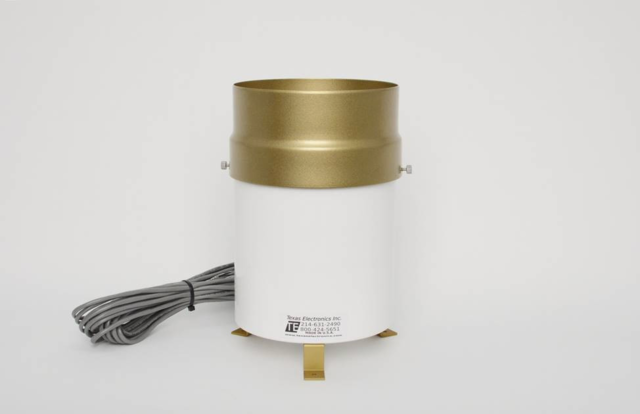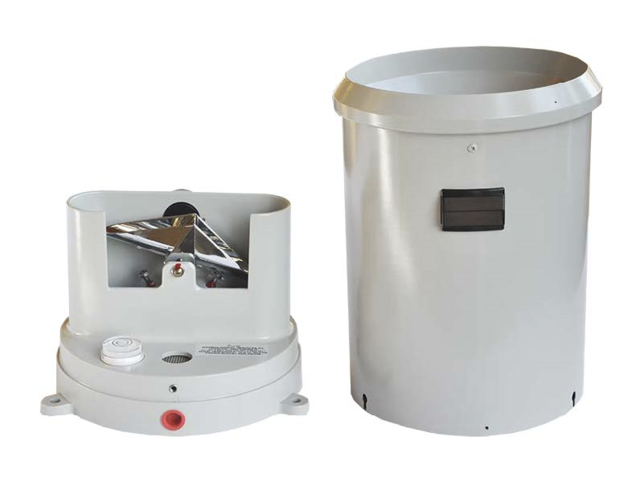 Data is collected across the Kansas Mesonet at several different frequencies. While we collect up to one minute resolution precipitation data - these are typically used for research and verification. Most commonly utilized data consists of the five minute, hourly, and daily accumulation - the total number of tips measured over the time period of interest.
Surrounding all rain gauges at Mesonet tower stations is an altershield, also called a wind screen (Figure 3). This screen consists of metal sleeves that create a ring that disrupts the wind flow in and around the rain gauge. As a result of this turbulence, precipitation will fall into the gauge instead of blowing across it. This increases catch and accuracy during wind events.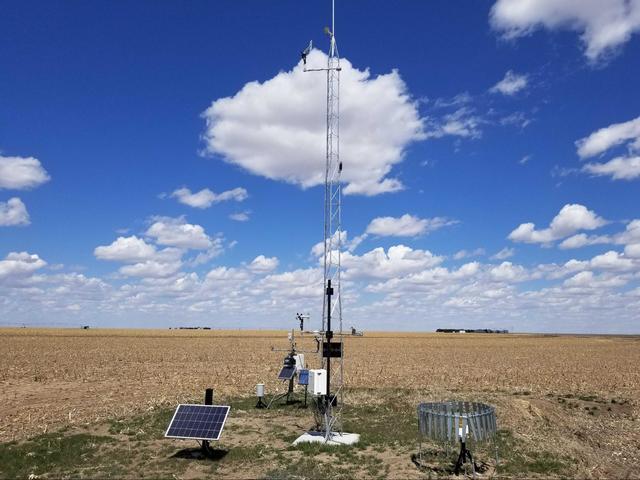 Mapped data
---
While there are many Kansas Mesonet stations across the state, resolution is still too coarse to build an interpolated map with our observations alone. We utilize the National Weather Service's Quantitative Precipitation Estimates (Figure 4) to help fill in the gaps between our stations and to paint the bigger picture. This data set utilizes a multisensor approach to estimate precipitation including radar, satellite, and rain gauge data. The first 24 hours are often preliminary and can occasionally change the next day as more data/confidence is displayed in estimates. You can find more information about this data source here: water.weather.gov.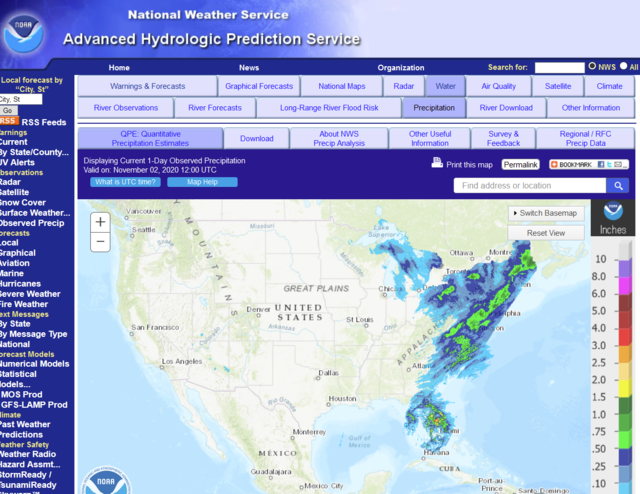 The data from the National Weather Service provides hourly data through the previous day - this is utilized in the precipitation since midnight and past 24 hours. Daily data is ingested each day at 0600 CST and is incorporated into the larger time periods beyond the last few hours. For Yesterday's, Two Day and Seven Day precipitation, a combination of daily and hourly are utilized to provide proper ending time of midnight local time. Beyond seven day, we utilize data from 0600 (start date) - 0600 CST (ending date) since hourly data isn't available. Mesonet data, both hourly and daily are used to match this National Weather Service data.
Measuring winter precipitation
---
Rain gauges on the Kansas Mesonet mainly focus on rainfall and don't effectively capture all snow and other winter precipitation (Figure 5). During snow events with light wind and that usually melt in the next day or so, these gauges will typically perform well. However, when winds increase or when mixed precipitation occurs, performance significantly declines.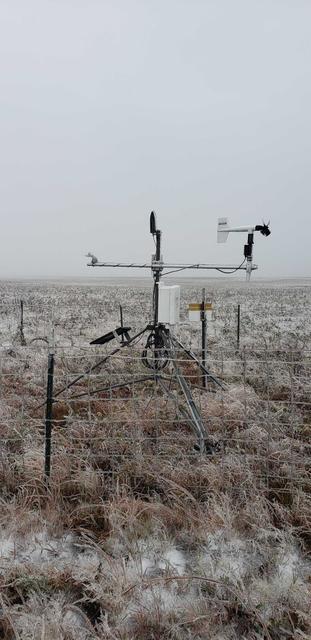 Here is how the gauges typically perform during each event:
Wind driven snow: Snow will accumulate briefly into the catch of the rain gauge top. However, it will typically blow out and be significantly under reported. The only exception is wet snow that has a tendency to stick. When wet snow does occur it tends to stick to the outside of the rain gauge and not actually fall into the catch area. This will also lead to underrepresentation of moisture.
Snow without wind: Snow will accumulate in the catch of the rain gauge and reside there until temperatures warm or sublimate. Typically, once it melts, liquid drips through rain gauge and is near-accurately measured. Timing of precipitation is usually not accurate to when it fell due to this delay.

Freezing rain: Measuring accuracy depends on temperature of the rain gauge. If a freezing rain event is heavy enough, what doesn't freeze will typically still fall into gauge and be measured. If intensity is lighter with cold enough temperatures, liquid will freeze on gauge and also inside of gauge. Depending on duration and amount, gauge may be completely frozen up and not accurately report precipitation until temperature warms. It is likely that gauge will under-report precipitation and not accurately reflect the event.

Rain post-snow or freezing rain: Often freezing rain or snow can melt during an event as the temperature warms and switch to all rain. In this case, ice buildup in the catch of the rain gauge will prevent rainfall from entering the gauge. If the rainfall is heavy enough, water will over-top the rain gauge and not be accurately reported. Another possibility is that the gauge mechanism freezes; however, rainfall can still enter through the top. When this occurs, the rainfall passes through the gauge and isn't accurately measured.

Redundancy and quality control

---

Precipitation is one of the most important variables measured by the Kansas Mesonet and, unfortunately, one of the most challenging. There are countless sources of error possible despite the best efforts of the technicians (see Source errors section below). For this reason, the Mesonet has begun expanding the precipitation to include a second rain gauge at all tower stations. This increases the potential of accurately measuring rainfall and hopefully detecting an issue without significant data loss. At all stations with dual gauges, the second rain gauge is a TE-525 (Figure 6).

Figure 6. Dual rain gauges at Mitchell with an a altershield/wind screen around them.

This second rain gauge isn't displayed on the website but does go into the Mesonet databases. When major discrepancies are detected in five minute data (difference of 5.08 mm, 0.02") between the two gauges, an alert is sent to quality control. This will initiate a trouble ticket for further evaluation and possibly emergency maintenance. If the issue is determined to be a clogged rain gauge, the secondary rain gauge will be used to backfill the primary rain gauge data. Typically, depending on the event, this could take a few days to even weeks before proper data is represented in the historical databases and the Precipitation display.

Aside from a secondary rain gauge (which tripod stations do not have), there are several other ways to determine precipitation accuracy. Quality control, both human and electronic, evaluate several other data sources to determine errors:

National Weather Service data provides an approximate first guess on the amount of precipitation at each location. This estimation does have some significant sources of error. These sources include resolution errors. Each "pixel" of data reflects hundreds of feet to even miles of which the data is averaged over. This can often smooth data within the pixel and not properly reflect an exact amount at the weather station. Secondly, due to radar distances and station gaps, the horizontal accuracy can sometimes be incorrect. Precipitation measurements can be shifted in direction from where it actually occurred.

Nearby weather stations provide a second estimate on precipitation in the area. Often, rainfall is very variable with significant gradients across short distances. Therefore, precipitation amounts may not accurately reflect the station's measurements but will provide information on if precipitation occurred.

Soil moisture is available at all our tower stations. When precipitation does occur, the surface soil moisture usually increases (unless the ground is already saturated, dry ground becomes too hydrophobic to allow infiltration, or soil sensors are working incorrectly) then soil moisture values also increase. Through these increases, we can usually infer that precipitation occurred at the weather station and that a rain gauge issue exists (Figure 7).

Figure 7. Soil moisture changes at Lake City during a rain event with a working rain gauge (A) and a malfunctioning gauge (B).

Unfortunately, a rain gauge issue isn't determined until it misses a precipitation event. While we try hard to place a station in a location that is accessible through all weather - often muddy conditions result of the rain. For some stations, this may delay required maintenance if the station is inaccessible. One of our main goals is to respect and avoid disruption in proximity of the station and the landowner's land. This may occasionally lead to multiple missed rain events if they are consecutive without some drying between them. This prevents property and equipment damage (Figure 8).

Figure 8. Ruts accidentally created while accessing the Gray station.

Possible source errors

---

As already mentioned, rain gauges on the Kansas Mesonet are often influenced by external factors that reduce accuracy. Here are a few of the common problems why a rain gauge would miss a precipitation event:

Spider webs: Webs restricting the activation of the tipping mechanism are often the most common issue of a malfunctioning rain gauge. This web is usually small, but strong enough to prohibit the mechanism from working properly (Figure 9). When precipitation occurs, it flows in and out of the frozen mechanism and isn't correctly measured. As a result, rainfall isn't recorded. We see a significant increase in these errors during autumn and will increase preventative maintenance to avoid this issue in advance of a rain event.

Figure 9. Cobwebs holding the tipping mechanism at LaCrosse.

Dirt and dust: During long stretches of dry weather, mostly in western Kansas, dust and dirt can accumulate from wind events. This dust can effectively clog the funnel of the rain gauges, catching and prohibiting water from flowing through. Siphon rain gauges are notorious for this issue.

Grass and other debris: One of the side-effects of maintaining grass around the weather station is vegetation debris. This can accumulate both during the technicians' visit and due to nearby field work, etc. Often corn or grass debris build up in the rain gauge over time. If the station should go a long period without maintenance, especially in the fall, these may not be properly cleared and result in a clogged funnel. They can also limit the water flow and decrease measured precipitation for shorter time periods and spread it over a longer duration than reality.

Cut wires: Rain gauges are located at 10-12' southeast of the weather station and are directly wired into the data logger at the station (Figure 10). As a result, a long cord is required to extend the distance between the logger and gauge. These cords are enclosed in metal conduit to avoid both human and nature's sharp objects. Occasionally though, a weedeater, sun weathering, or even rabbits can find/create some exposed wiring on either the data logger or rain gauge side of the conduit. As a result, periodically these wires can be cut or severed. When this occurs, rain gauges will not report precipitation.

Figure 10. Proximity of rain gauge to the data logger and main tower at Hutchinson 10SW.

Rain gauge test flags: Each Mesonet station has a "test flag" that can be turned on while a technician is on site. These allow the technician to calibrate or test the rain gauge for proper operation without data being stored in the database. Periodically, when these flags are turned off after maintenance, the datalogger may not register the change. When rainfall occurs and the gauge test flag is on, precipitation isn't recorded. To prevent this issue, stations are checked multiple times to ensure the flag is off. Unfortunately, sometimes this flag finds a way to be left on.

Nests: Animals, birds, and insects nearby tend to find the rain gauge catch a fantastic place to build a nest (Figure 11). Unfortunately, this usually results in little to no precipitation making it through the funnel of the rain gauge and going unreported. There are only a few cases of this occurring with most critters, even birds, rarely observed in the catch.

Figure 11. Mice nest found in the top of a rain gauge at Haskell.

Wind: In the past, especially in western Kansas, rain gauges used to be mounted up to 6-8' above the ground. As a result, the mast or tower it resided would move in strong winds. This rocking motion would create false activation of the tipping mechanism and lead to unrepresentative precipitation measurements. This doesn't occur often since the gauges have been lowered - however, this problem can still occasionally occur during high winds.

Dew: Usually during the spring and fall, heavy dews in the morning can accumulate enough to activate the tipping mechanism of the gauge. These measurements are usually minimal, only 0.01", and are not flagged in the database. This typically occurs on cool, clear nights with little wind and strong inversions.

Normals, calculation and determination

---

Many of the Kansas Mesonet stations have been in place for less than 30 years - the typical duration for a climate reference station. Unfortunately, that means we don't have a climate dataset for most except the original thirteen stations. For the remainder, we utilized the nearest National Weather Service Cooperative Observer station that included precipitation measurements. Although these locations were different from the mesonet station, they provide rough guidance on precipitation trends through the year. At most sites, the climate COOP station is only a few miles away from the Mesonet station.

Normals calculations are based on daily averages over a 30-year period which is updated every 10 years. Current normals are based on the 1981-2010 period. These values typically start out low in the winter, increase through spring with a peak in mid-summer, then fall through the remainder of the year statewide. Calculations use the climate COOP station and subtract the current measurements for the respective time period. Below average precipitation for that period is denoted with a negative anomaly. Positive values reference above average precipitation for the respective period.